If you are the type of person that loves scary movies, all things horror and even candy corn you should consider having a Hallowedding. Halloween themed and inspired weddings allow all sorts of unique ideas to come out. If you are considering giving your guests something that they will never forget this is a perfect holiday to do that. First don't automatically think that a Halloween theme means going goth. Goth-inspiration is only one way that this kitchy theme can be done, you can change it to be more retro and have a fell of returning to your childhood or you can go for Halloween glamour and take a chic an sophisticated approach. Here are some ways to pull off a spook-tacular event that everyone will be happy to celebrate about.
Location
The location for a wedding like this is very important because it can easily set the tone for the event. Choose an old Victorian style church complete with gargoyles watching overhead or a Gothic style mansion for your setting. For something a little more extreme a graveyard could be an ideal place, just make sure its ok to be there before walking over someones final resting place.
Decor
Of course the obvious choice of orange and black will jump to most peoples mind right away but also consider other dark romantic colors such as blood rose red, midnight blue or neon green for something fun. Something that would also be a great idea and not many people would think of is choosing the colors of candy corn - white, gold and orange still say Halloween just on a sweeter scale.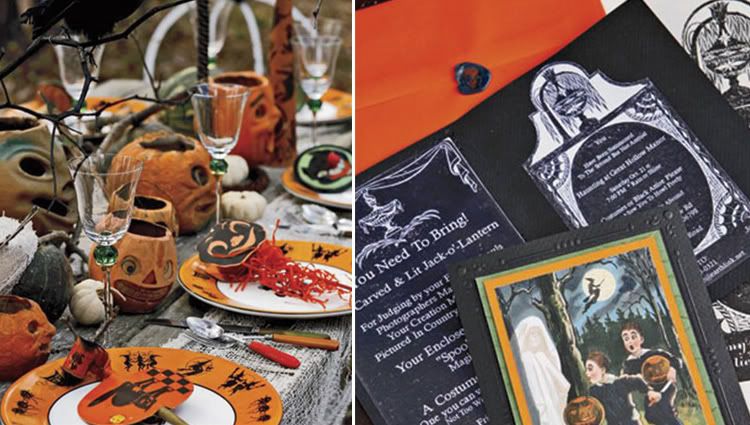 Other suggestions would be to have your table names at the reception be of classic horror movies, incorporate a string quartet to play old classics during the wedding and reception, use heavy and solid fabrics to give a plush, regal and dark feel while having pillar candles set up everywhere. Spider webs, cauldrons, brooms and pumpkins can fill corners and dazzle on tables for added fun.

Food, Cake and Concoctions
Creating food dishes that are not only festive but a little odd will make the event that more interesting. Dishes like pumpkin or tomato soup, artichoke hearts and beets, green eggs and ham or spaghetti with meatballs are all great choices. You may also want to see if you can change the color of some of your dishes so that they are a little spookier by sight and not taste. Don't forget to incorporate special cocktails for the event such as a hot spiced cider or a pomegranate martini with some dry ice for a smoky brew feel. The secret to the cake is actually the layer flavors for this event. Going against traditional flavors will open up your choices for pumpkin spice, pistachio and creme de banana. The classic choice for your cake filling would be red velvet because the color and taste are simply divine to use.

Attire
For the bride go all out and don a black gown or long sleek dress with a rich accent color. The groom can get all decked out in a top hat and tails for a Phantom of the Opera feel. As far as your guests are concerned ask them to dress in costumes to attend the wedding and that they can't get in unless they do. You can also ask your guests to dress in all black or only wear a small choice of colors to the wedding so that they are not only keeping with your ghostly theme but the bride will be a stand out in her all white gown.
DJ Tunes to Spin
Music is always important when it comes to getting down and making sure your guests have a great time but here are few tunes not to leave out of the play list
Thriller - Michael Jackson
The Monster Mash - Bobby Pickett
I Put A Spell on You - Nina Simone
Purple People Eater - Sheb Wooley
Addams Groove - M.C. Hammer
The Time Warp - Rocky Horror Soundtrack
The theme songs from the Twilight Zone, X-Files, Jaws and the Poltergeist
No matter what you plan on doing for this festive day make it a special one, after all the day is about you and your special someone. Your guests will be amazed at the details and ways this theme can play out from beginning to end, This is the perfect occasion to have small surprises and unexpected turns through the evening...from fortune tellers, to a haunted house, an organ player or even a actors dressed as mummies and witches to mingle with your guests...the possibilities are endless for a fabulous Hallowedding!